Children's Defender – A step-by-step workshop in personal safety & self-defence (PG)
The RESOLVEit Children's Defender programme is focused on improving the lives of children by addressing all matters of personal safety to build a launchpad from which children can feel safer and more confident.
Course Overview
We have drawn on our extensive teaching experience and world-leading self-defence expertise to create a unique online personal safety workshop. Eight effective and memorable self-defence techniques are taught alongside RESOLVEit's personal safety booklet, interactive games and quizzes that will help to reinforce the importance of personal safety awareness.
The Children's Defender programme also comes with the Children's Defender workbook (PDF).
This is the perfect way to test your pupil's safety knowledge through 8 stages. It's simple, accessible to all and highly effective.
Video Content
9 Minutes
*All gold and platinum workshops can have an additional Train a Trainer programme for staff. Prices vary on location. Refresher workshops can be held on-site at a cost. Please contact enquiries@resolveitcic.co.uk for more information. 
RESOLVEit – Terms and Conditions (Downloadable PDF)
RESOLVEit – Disclaimer (Downloadable PDF)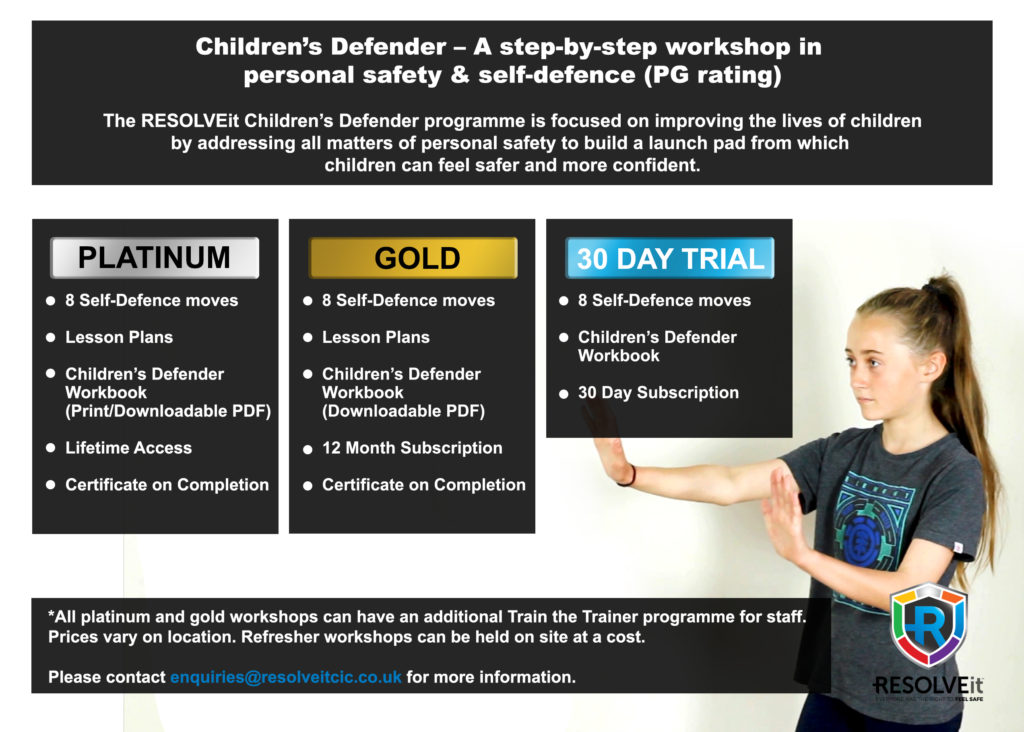 Purchase Course